Return to Lawn Mowers
2X18V (36V) 6.0Ah 18" FUSION Lawn Mower Kit
ALM18BS6
I/N: 0028229
















The AEG 2 X 18V (36V) 6.0Ah 18" FUSION Lawn Mower Kit provides plenty of performance and run-time to meet the needs of a professional landscaper. Featuring the latest in AEG's Advanced Brushless Motor technology, the unit requires two 18V Batteries running simultaneously (in series) to operate the 36V Advanced Brushless Motor. This ensures uncompromising cutting power, even under heavy load. The robust 2mm thick steel deck is built to withstand the harshest jobsite conditions, and the folding collapsible handles enable compact storage. The mower features a 7 position height adjustment lever, ensuring the user will be able to cut the grass to the desired height. The mower includes a 50 litre catch bag, mulch plug, and side-throw for added versatility. The kit contains 2x 18V 6.0Ah FORCE batteries and 2 standard chargers to provide you with Unrivalled Power Delivery and Performance from an 18V system!
$799
Price correct as of 23rd October 2019 02:34 PM AEDT
FIND IN-STORE
Bulk Order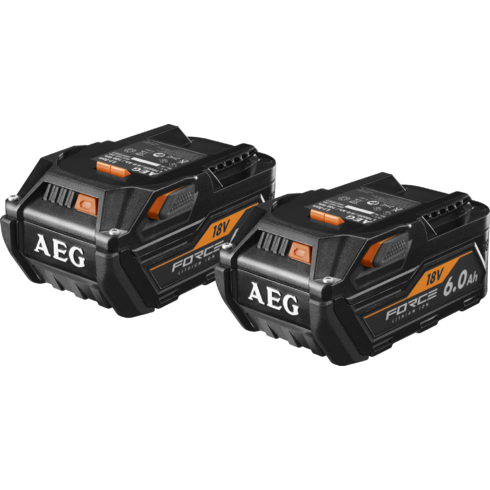 Bonus Via MY AEG
18V 6.0Ah Force Battery Twin Pack
The AEG 2 X 18V (36V) 6.0Ah 18" FUSION Lawn Mower features AEG Advanced Brushless Motor technology and runs on 2 x 18V Batteries simultaneously (in series). It has a 2mm thick steel deck, 7 height adjustments, a 50 litre catch bag, mulch plug, side-throw, 2 batteries and charger.
Terms & Conditions Apply
HOW TO REDEEM?
1

MY AEG

Create Account or Login to MY AEG

2

Register

Register your purchased product

3

Redeem

Submit redemption claim
Features
Specifications
What's Included
Reviews
Q&A
36V Advanced Brushless Motor technology (2 X 18V design requires 2 batteries to operate unit )
3-in-1 design: 50-litre catch bag, mulch plug, side throw
Reinforced handles offering extra strength and durability
Robust 2mm thick steel deck
New deck geometry achieves lower cutting heights
Deck material
2mm thick steel deck
2X18V (36V) FUSION Lawn Mower Skin
1
Multi Chemistry Chargers
2