Return to Combo Kits
18V 6.0Ah 6 Piece Brushless Heavy Duty Combo Kit with FUSION and FORCE
BSB18BL6-602B3
I/N: 6230328













The AEG 18V Brushless Heavy Duty 6-piece kit is designed to handle extreme applications. This kit includes 2 of our new innovative high-performance FUSION tools, equipped with the latest Advanced Brushless Technology with intelligent software and hardware. Built for professional tradesmen, FUSION tools paired with the new FORCE batteries will provide extreme power and run-time.
$1,263
Price correct as of 22nd September 2019 09:33 PM AEST
FIND IN-STORE
Bulk Order
See In Action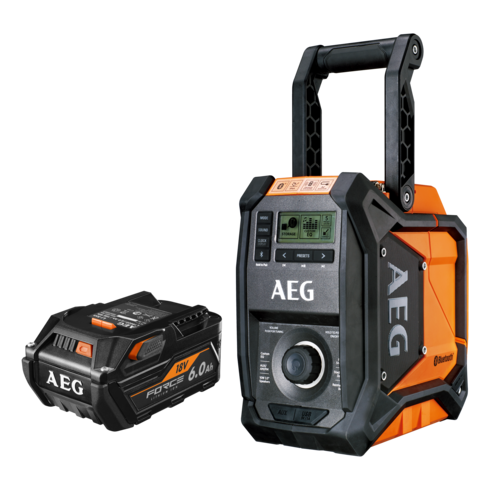 Bonus Via MY AEG
18V/240V Hybrid Bluetooth Jobsite Radio + 18V 6.0Ah FORCE Battery
Grab a heavy duty 6-piece FUSION/Brushless kit, comprising a FUSION hammer drill, a FUSION recip saw, a 3-speed impact driver, a 184mm cular saw, a 125mm angle grinder, LED torch, multi-chemistry smarter, 2 x 6.0Ah FORCE batteries and a FUSION Heavy duty tool bag with wheels.
Terms & Conditions Apply
HOW TO REDEEM?
1

MY AEG

Create Account or Login to MY AEG

2

Register

Register your purchased product

3

Redeem

Submit redemption claim
Features
What's Included
Reviews
Q&A
See In Action
FUSION tools are The Next Evolution of AEG Powertools and are AEG's most powerful and efficient tools to date with Advanced Brushless Motors boosted with intelligent software and hardware.
FORCE batteries are AEG's most advanced batteries with next-gen cell technology and smart systems to deliver more power for longer.
Brushless technology gives you maximum performance, longer run-time and extended motor life.
FORCE batteries are backwards compatible with all AEG 18V products and will boost the performance of your existing 18V AEG Powertools by up to 25%.
18V FUSION Brushless Heavy Duty Hammer Drill (Huge 140Nm Torque)
1
18V FUSION Brushless Reciprocating Saw (Orbital Action)
1
18V Brushless 3 Speed Impact Driver (220Nm)
1
18V Brushless 184mm Circular Saw
1
18V Brushless 125mm Angle Grinder
1
18V 6.0Ah FORCE batteries
2
18V Multi Chemistry Smart Charger
1
Heavy Duty Tool Bag with wheels
1