Return to Grinders
18V 125mm FUSION Paddle Switch Angle Grinder Skin
BEWS18125BLP-0
I/N: 0057100

The AEG 18V 125mm FUSION Paddle Switch Angle Grinder features brushless technology, which means it delivers greater performance and an impressive runtime. This cordless angle grinder is comfortable to use, with an ergonomic dead-man paddle switch that makes it safer and easier to control. It also has an anti-kickback shutdown mode, so you can grind or cut with a reduced risk of kickback.

This AEG angle grinder has several other safety features, too. There's an electronic blade brake and a 2-in-1 safety guard. The angle grinder also has a micron-mesh filtration cap and sealed electronics, creating a 2-stage dust protection system.

As well as improved safety features, the 125mm angle grinder has been designed to be as efficient and practical as possible. Blade changes can be completed tool-free, minimising interruptions to your work, and the 3-position side handle gives you excellent control. This side handle also reduces vibration, which means you can work for longer without fatigue.

Get this more powerful and safer AEG 18V 125mm FUSION Paddle Switch Angle Grinder from Bunnings.
$319
Where To Buy
Bulk Order
See In Action
SHARE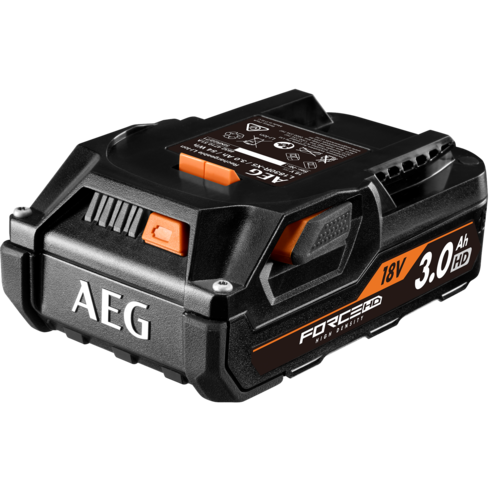 Bonus Via MY AEG
18V 3.0Ah FORCE HD Battery
The 18V 3.0Ah FORCE HD battery is yours via redemption when you buy the 18V 125mm FUSION Paddle Switch Angle Grinder Skin (BEWS18125BLP-0). This 18V 3.0Ah FORCE HD battery provides you with the same power output as the 6.0Ah FORCE battery, but is 19% lighter and 23% smaller. You can make it a kit if you buy an 18V Multi Chemistry Charger (BL1218-X4), and you'll also recieve via redemption an 18V Jobsite Blower.
Terms & Conditions Apply
HOW TO REDEEM?
1

MY AEG

Create Account or Login to MY AEG

2

Register

Register your purchased product

3

Redeem

Submit redemption claim
Features
Specifications
What's Included
Reviews
Q&A
See In Action
Advanced 18V FUSION brushless motor delivers impressive power and runtime  
Ergonomic dead-man paddle switch increases user safety and control  
Anti-kickback shutdown mode protects the user from kickback
18V 125mm FUSION Paddle Switch Angle Grinder Skin
Anti vibration side handle