TOOL UP FOR 2023
If your New Year's resolution was to work smarter, not harder, then AEG's latest new products and awesome bonus FUSION tools and FORCE batteries have you covered. We've got exclusive deals, new tools and kits, powerful batteries that weigh less than the older model … there's a lot going on in 2023!
NEW PRODUCTS EXCLUSIVE TO BUNNINGS – STRICTLY LIMITED
Below are two offers exclusive to Bunnings … but only for a limited time at this price.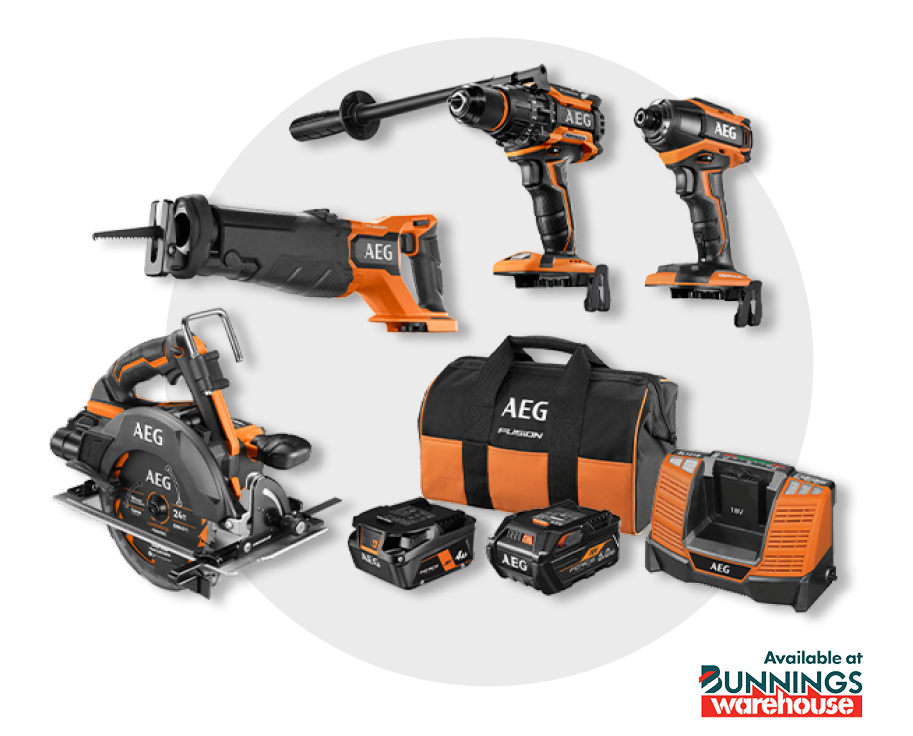 NEW 18V FUSION/Brushless 4 Piece Heavy Duty Combo 6.0Ah/4.0Ah FORCE Kit (A18FOX464B)
MAKE IT EVEN BETTER
Unreal value for this 4-piece kit (purchased separately would cost more than $1,800 RRP) for just $899. And choose an 18V FUSION Paddle Switch Angle Grinder skin or 4.0AH FORCE battery twin pack via redemption!

NEW 18V Brushless 125 Slide Switch Angle Grinder 4.0Ah FORCE Kit w/ Accessories (A18AG12514B)
SPECIAL PRICE SLIDE
Practically half-price for this kit. And it comes with a range of accessories. Would cost more than $600 RRP (when purchased separately) for only $299. Very limited quantity so get in quick before they're all gone.
TOOL KIT DEPOT EXCLUSIVE
You'll only find these offers on an 8-piece kit (with bonus tool or battery) or a paddle switch grinder with accessory kit at TKD. Be quick!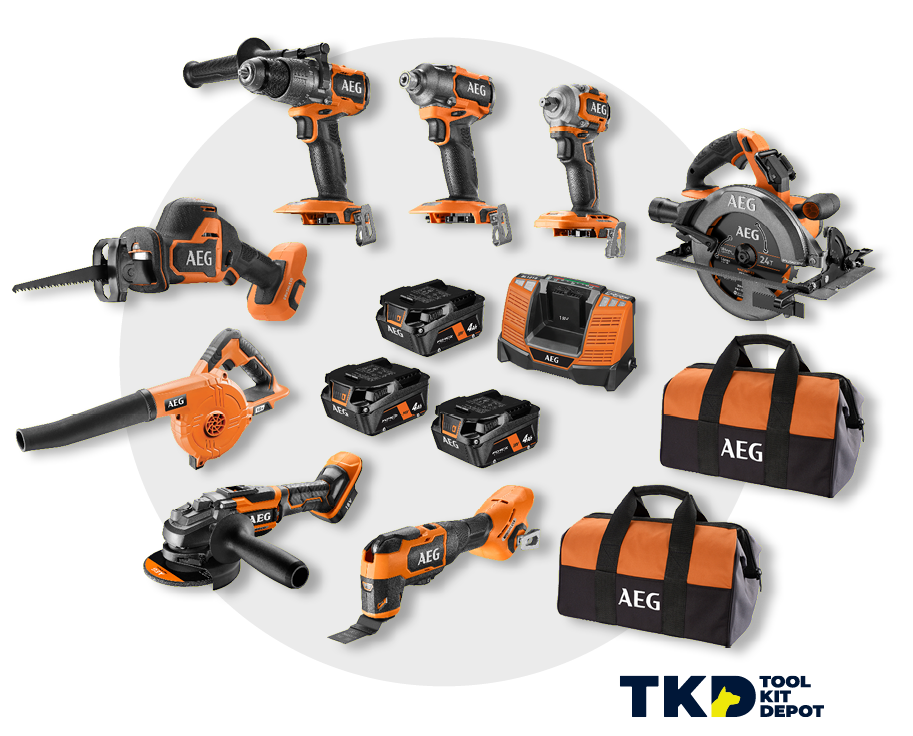 18V 8-Piece FUSION/Brushless 4.0Ah FORCE Kit (A18OX843)
UP THE ANTE
Unreal value for this 8-piece kit (purchased separately would cost more than $3,000 RRP) for just $1,199. And get an 18V FUSION SDS+ Rotary Hammer Drill or 4.0Ah FORCE Battery Twin Pack via redemption!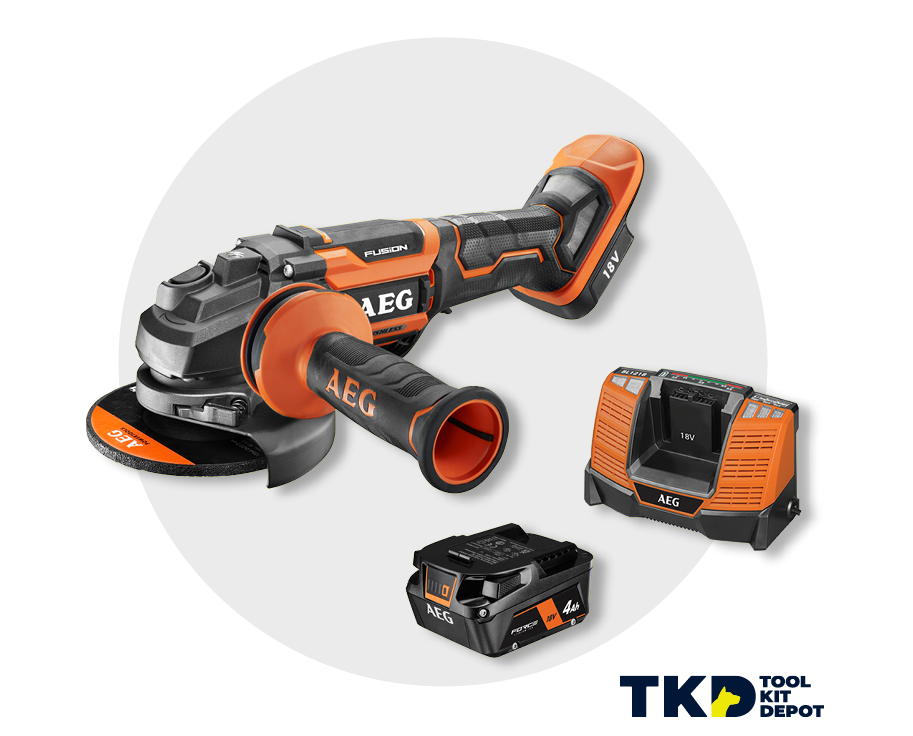 18V FUSION 125mm Paddle Switch Angle Grinder 4.0Ah FORCE Kit (A18FOTOAG4)
GRIND AWAY
Comes with accessory kit for even better value. More than $600 RRP (when purchased separately) for only $279. Very limited quantity so don't muck around. When they're gone, that's it.
TOP POWER TOOL REDEMPTIONS
We've even added FUSION tools or FORCE batteries (via redemption) to some of our most popular kits to give you even
more bang for your buck.
TOP OPE REDEMPTIONS
Make the most of every minute of sunshine with our great range of commercial outdoor power equipment – petrol power without all the hassles.

WHAT'S NEW IN 2023?
AEG continues to innovate and create tools suited to Australia's tough conditions and materials. Check out our latest innovative products added to the fast-growing range.
TAKE CHARGE IN 2023
You asked, we listened. New chargers added to the range.
18V 6 Port Sequential Charger
(A18MPC0)
CHARGING CADDY
Charge six batteries one after the other – and carry them around like a six-pack!
18V Dual Port Simultaneous Rapid Charger (A18DPC0)
TWICE AS FAST
Charge two batteries at once so you can stay on the tools for longer.
NEW HIGH-PERFORMANCE FUSION TOOLS
AEG's FUSION heavy-duty brushless power tools push the boundaries of technology and deliver results previously not
found in cordless tools. Check out the market-leading specs many of the tools possess.
18V FUSION Heavy Duty Hammer Drill Skin (A18FPD0)
HEAVY-HITTER
Reach for this next gen hammer drill when you need heavy-duty results. The powerful FUSION brushless motor won't disappoint.
18V FUSION 6 Mode 3/4" High Torque Impact Wrench Skin (A18FIW34HT0)
NUT BUSTER
FUSION brushless motor generates 2,200Nm of nutbusting torque, plus pre-set modes to avoid overtightening.
EXPANDING OUR INNOVATIVE BRUSHLESS RANGE
Three new powerful 'work horses' that deliver great results day in, day out.
18V Brushless D-Handle
Jigsaw Skin (A18JSB0)
YOU CAN HANDLE IT
Up to 3,450spm and 25.4mm stroke
length, tool-less adjustments, dust port adaptor.
18V Brushless Sub Compact
4 Mode Impact Wrench Skin
(A18SIW12BL0)
MAKE AN IMPACT #1
26% smaller than the full-size
model, designed for working in
tight spaces without compromising
on power.
18V Brushless Sub Compact
4 Mode Impact Driver Skin
(A18SIDBL0)
MAKE AN IMPACT #2
32% lighter than its full-size cousin,
so you can use it for longer without
tiring. Still delivers 195Nm of torque.

SEE ALL THE LATEST AEG REDEMPTION OFFERS
Until 31 March 2023, choose between a bonus FUSION tool or FORCE battery when you purchase select 18V FUSION/ Brushless kits.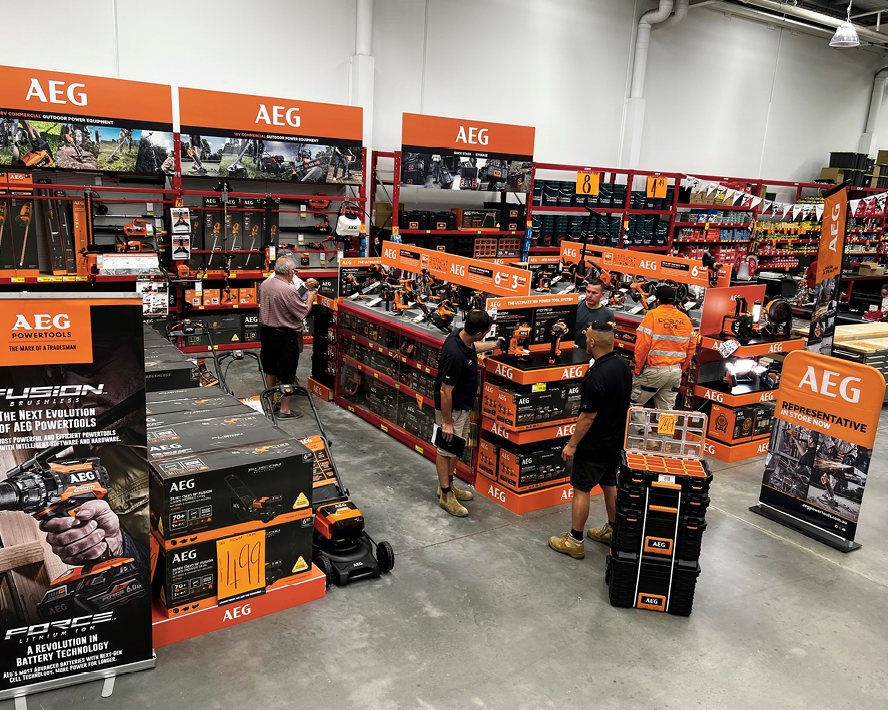 AEG TRADE HUB


At selected Bunnings stores nationally, AEG has set up a shop within a shop – full range of products, on-site tool specialist 7 days a week.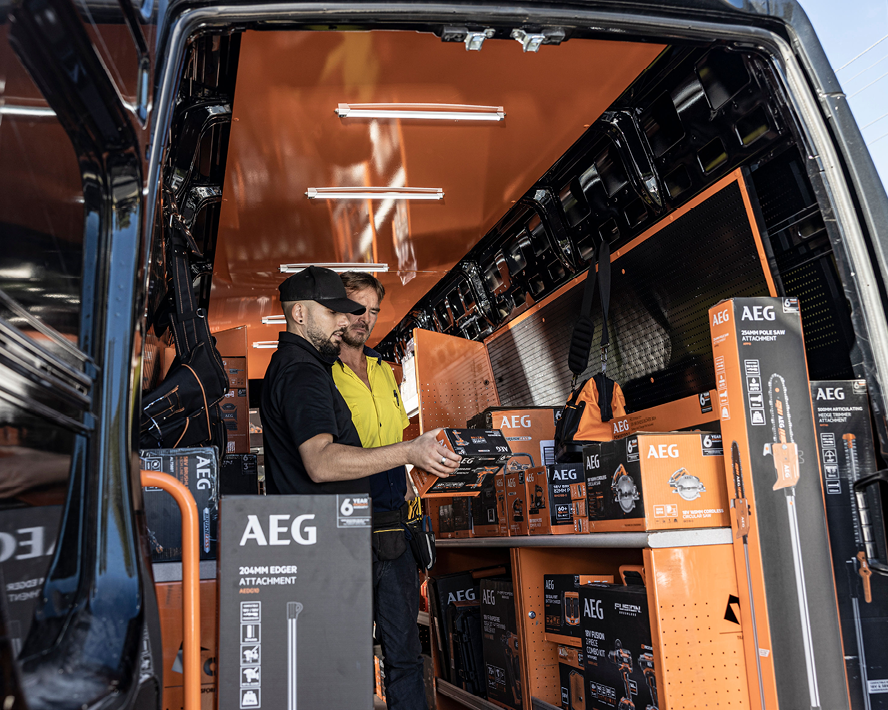 TOOLS DELIVERED FREE TO WHERE YOU'RE WORKING VIA AEG ONSITE
The AEG Onsite Team will bring the tool shop to you. Power tools, outdoor power equipment, hand tools and accessories